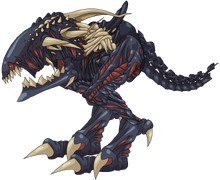 A monster or opponent is a creature or person that the character battles against. There are several species of monster that exist, such as Virins, Exos, Defiler, and Nechrons. Currently, monsters must be battled to earn Experience & Gold. Occasionally, monsters "team up" to create wars. These usually have powerful rewards.
Symbols/Numbers
A
B
C
D
E
F
G
H
I
J
K
L
M
N
O
P
Q
R
S
T
U
V
W
X
Y
Z
Ad blocker interference detected!
Wikia is a free-to-use site that makes money from advertising. We have a modified experience for viewers using ad blockers

Wikia is not accessible if you've made further modifications. Remove the custom ad blocker rule(s) and the page will load as expected.