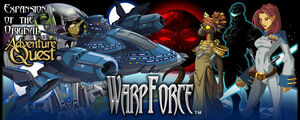 The official expansion to AdventureQuest, created and run by the same team! Join the WarpForce and explore the galaxy while battling the evil alien force known as THE NETWORK. Login with your existing AdventureQuest account and create a new human, drakel, or elf character to begin your adventure. You can play a wide variety of BattleTypes including armored cannonwielder, witty space rogue, quick-fisted ninja, genius cyber tech and more. Level up, train your stats and obtain new weapons, pets, battlesuits, skills & techs!
WarpForce is about the people of Lore (Humans, Dwarves, Elves, and a reptilian race called Drakel) who band together to create a fleet of starships powered by both magic AND science, and zoom into outer space on missions to defeat a powerful and vast alien Network that is working to take over the universe! WarpForce takes ideas of traditional fantasy and rockets them into a sci-fi universe, combining classic RPG elements with trademark Artix Entertainment humor and a massive single-player storyline that unlocks as the player levels up (much like a console game), becoming more powerful by increasing stats and getting advanced equipment. Players will be able to choose from several races (each with benefits), dynamically change equipment during colorful and exciting animated battles, and also be able to combine their efforts in large wars and crossover events.
External Links
Edit
Ad blocker interference detected!
Wikia is a free-to-use site that makes money from advertising. We have a modified experience for viewers using ad blockers

Wikia is not accessible if you've made further modifications. Remove the custom ad blocker rule(s) and the page will load as expected.