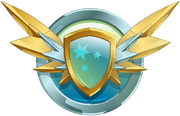 Guardians are characters in WarpForce who are able to access all the features of the game. They generally have an advantage over warptrackers including being able to purchase considerably powerful items from the store within the WarpGuardian Tower,and the ability to level up pass level 75.
Obtaining Guardianship
Edit
There are two ways in which one can become a Guardian. The first is through a One-Time Only donation of $19.95 USD or if you are an AQ Guardian, DragonFable DragonLord, MechQuest Star Captain, or an AQ Worlds Member, you can get a $10 discount on the WarpGuardian upgrade. The money goes to maintaining game server costs. The transaction may be done through PayPal, Pay-By-Cash or through direct payments through snail mail, though the latter is generally not recommended due to the possibility that the money might be lost.
Another way of becoming a Guardian is to receive an upgrade from a friend. This mode of upgrading involves getting someone else to help donate, thus upgrading your account into that of a Guardian. Transactions made this way usually receive a discount during the Christmas Holidays.
Enhanced Access to the Game
More Missions
More Battlesuits
More Weapons
More Pets and Skills & Techs
More Helmets, Gauntlets and other Items!
Level up Higher- As a WarpGuardian, you can play to whatever the current maximum level is!!
Bonus Gold - A one-time package of 500 extra gold pieces!
WarpGuardian Weapons - WarpGuardian Blade or WarpGuardian Blaster Rifle, depending on whether you choose Striker or Gunner class. These weapons have 6 awesome special attacks that they can perform, including Summon the WarpGuardian Dragon and Summon Death 2.0! You get this weapon automatically on your character, replacing your basic weapon!
WarpGuardian Battlesuit - Complete with a powerful built-in hand-cannon! You get this automatically on your character, replacing your basic armor!
WarpGuardian Helmet - Available in the WarpGuardian shop in the WG Tower, this increases your defenses!
Bonus Z-Tokens - A one-time bonus of 1000 Free Z-Tokens!
Potion Upgrade - Magic potions cannot be made in space, and are therefore EXTREMELY rare -- WarpGuardians start with 6 Health and 6 Mana potions
Ad blocker interference detected!
Wikia is a free-to-use site that makes money from advertising. We have a modified experience for viewers using ad blockers

Wikia is not accessible if you've made further modifications. Remove the custom ad blocker rule(s) and the page will load as expected.